Cindy Crawford Recreates Her Iconic 1992 Pepsi Ad
Cindy Crawford Recreates Her Iconic 1992 Pepsi Ad. Model Cindy Crawford just shared with her Instagram followers that she recreated her iconic Pepsi commercial for a really great cause.
The original commercial, which was filmed in 199 when Cindy would have been 29 at the time, made huge waves when it premiered at the Super Bowl.
Twenty-nine years later, the supermodel traveled back to the original shoot location—and brought along the same hairdresser, too. 'We returned back to the original Halfway House from the famous @pepsi commercial I did in 1992 to recreate the moment,' she shared in her Instagram post.
Here's what the original Pepsi ad looked like, with Crawford in her iconic white vest and Daisy Dukes denim shorts:
The 2021 shoot was done with photographer David Yarrow to raise money for the American Family Children's Hospital in Madison, Wisconsin, where Crawford shared that her brother was treated for leukemia. Cindy also shared that so far, they had raised over $1 million.
Fellow model Helena Christensen commented, '👏🔥❤️😍 cool in every way,' and Reese Witherspoon wrote, 'Truly gorgeous! And for a great cause ❤️.'
Crawford also shared some behind-the-scenes shots in her Instagram Stories, that show her rocking the same cut-off jean shorts and white vest.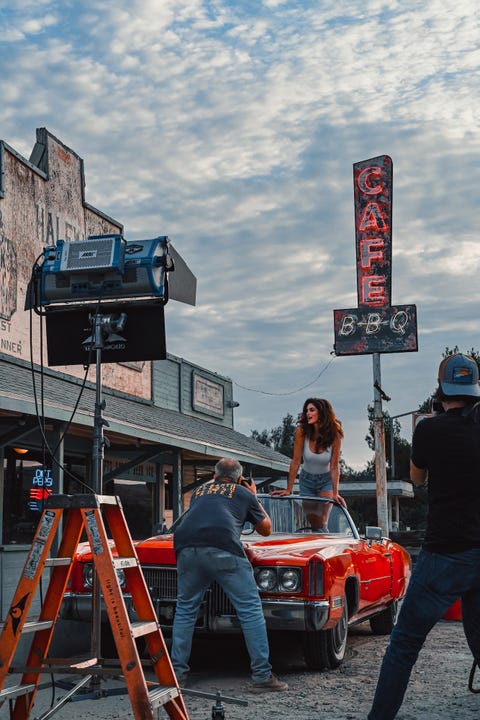 Between the cowboy hat and the strut, she looks even stronger than she did 29 years ago:
Crawford works with her trainer Sarah Hagaman to take the best care of her body, and she recently shared one of her grueling workouts on Instagram.
She does 3 rounds of 20-30-40 reps of standing bicycle crunches, sumo squat side to side crunches, low plank ab saws (4 reps and hold and repeat), low plank with alternating knee taps, hamstring hold with alternating scissors, bicycle crunches, kneeling plank with alternating reach elbow to knee, and side body raises to oblique crunches on each side.
As for her diet, Crawford knows the importance of nourishing her body so she eats lots of protein and vegetables. 'The more you eat healthily, the more you want to do it because you feel better,' she told People, which usually includes things like salmon and asparagus or turkey meatballs over raw spinach on her plate.
'I start out with a protein shake. That gets me through with very even energy. Have a salad for lunch. I feel better with protein so I like a salad with fish or chicken. Allow yourself the snack,' she said.
Also Read: Tiffany & Co. Has Taken Over London
Solemnly Declare: The copyright of this article belongs to the original author. The reprinted article is only for the purpose of disseminating more information. If the author's information is marked incorrectly, please contact us as soon as possible to modify or delete it.
Thank you 
Related Items:
1992 pepsi ad cindy, cindy, cindy crawford, cindy crawford 1992, cindy crawford 1992 pepsi commercial, cindy crawford daughter, cindy crawford pepsi, cindy crawford pepsi ad, cindy crawford pepsi commercial, cindy crawford pepsi super bowl 2018 commercial, cindy crawford recreates her iconic pepsi commercial 26 years later, cindy crawford recreates iconic super bowl ad 26 years..., crawford, Featured, Featured2, gallery, pepsi, pepsi commercial, recreates, richard gere and cindy crawford pictures